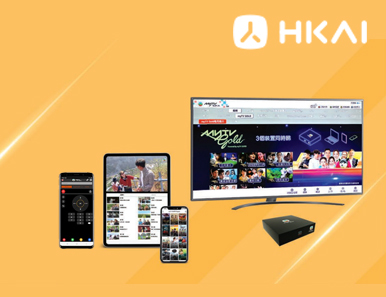 (21 Sep 2022, Hong Kong)  HKAI Limited ("HKAI") has announced the successful deployment of its newly developed Ad server, Media Advertising Intelligence ("MAI") for myTV SUPER, the OTT platform under Television Broadcasts Limited ("TVB"). The HKAI-developed server has recently started providing 24/7 Ad serving for the platform.
Established in 2020, HKAI has been focusing on online advertising solutions empowered by artificial intelligence. Since January 2021, the company has developed and customized MAI for the Hong Kong No.1 OTT platform, providing Ad serving and data management services to improve Ad distribution. After around 1 year of testing and trial, the MAI server developed by HKAI has grown mature enough that it started serving Ads in various formats 24/7 starting from August 2022, showcasing the reliability and stability of the system.
As of the end of 2021, the platform has over 9.9 million registered users. With the broad audience base and large number of Ads, it has to handle an average of over 10 million Ad requests per day. MAI is a high throughput low latency Ad server which can handle large amounts of data simultaneously with the help of algorithms and artificial intelligence. After the launch of MAI, it has handled more than 20,000 Ad request per second at most in prime-time Ad break.
MAI platform also supports integration of analytics data to generate more precise targeting and delivery of advertisers, as well as boost returns on advertising investment for our advertising customers.
Mr. Brendan Wu, Technical Co-Founder of HKAI Limited said, "Having a robust, stable and scalable Ad server is very important for an ever-growing audience and advertiser base. Rather than relying on AdTech products in the market which lack customization and flexibility, building your own Ad server can help tackle various pain points, while also reducing capital expenditure in the long run. We are grateful to have been able to grow with myTV SUPER in this period of time, helping it to deliver smooth Ad experience with low latency."
Mr. Rex Ching, the Group Chief Technology Officer of TVB said, "Thanks to MAI powered by HKAI, along with the team's support and flexibility, that we were able to develop our own Ad server to serve Ads from our advertisers precisely and stably. We will continue to optimize our advertising experience and deliver smart and precise Ads to our audience without latency."
About myTV SUPER
The service of myTV SUPER is broadened by TVB and provided by MyTV Super Limited. It offers you a vast volume and extensive choices of thematic channels and on-demand programs, featuring TVB self-produced shows, Asian dramas and variety shows, movies, classic movies, the latest Japanese anime, and other popular, high quality contents and topics of work. myTV SUPER is applicable on TV via myTV SUPER box, (selected 4K quality programs are available in 4K TV), mobile, tablet and web browser.
Website: www.mytvsuper.com
About HKAI Limited
Founded in 2020, HKAI Limited (HKAI) is a technology company that focuses on artificial intelligence (AI) and online advertising solutions. We work closely with enterprises to provide highly customized IT solutions and AI projects, including but not limited to Supply-Side Platform (AlgoAD) and Data Management Platform (AlgoDATA) for clients to manage their digital properties wisely and maximize monetization.
Website: www.hkai.io
Linkedin: @HKAI Limited