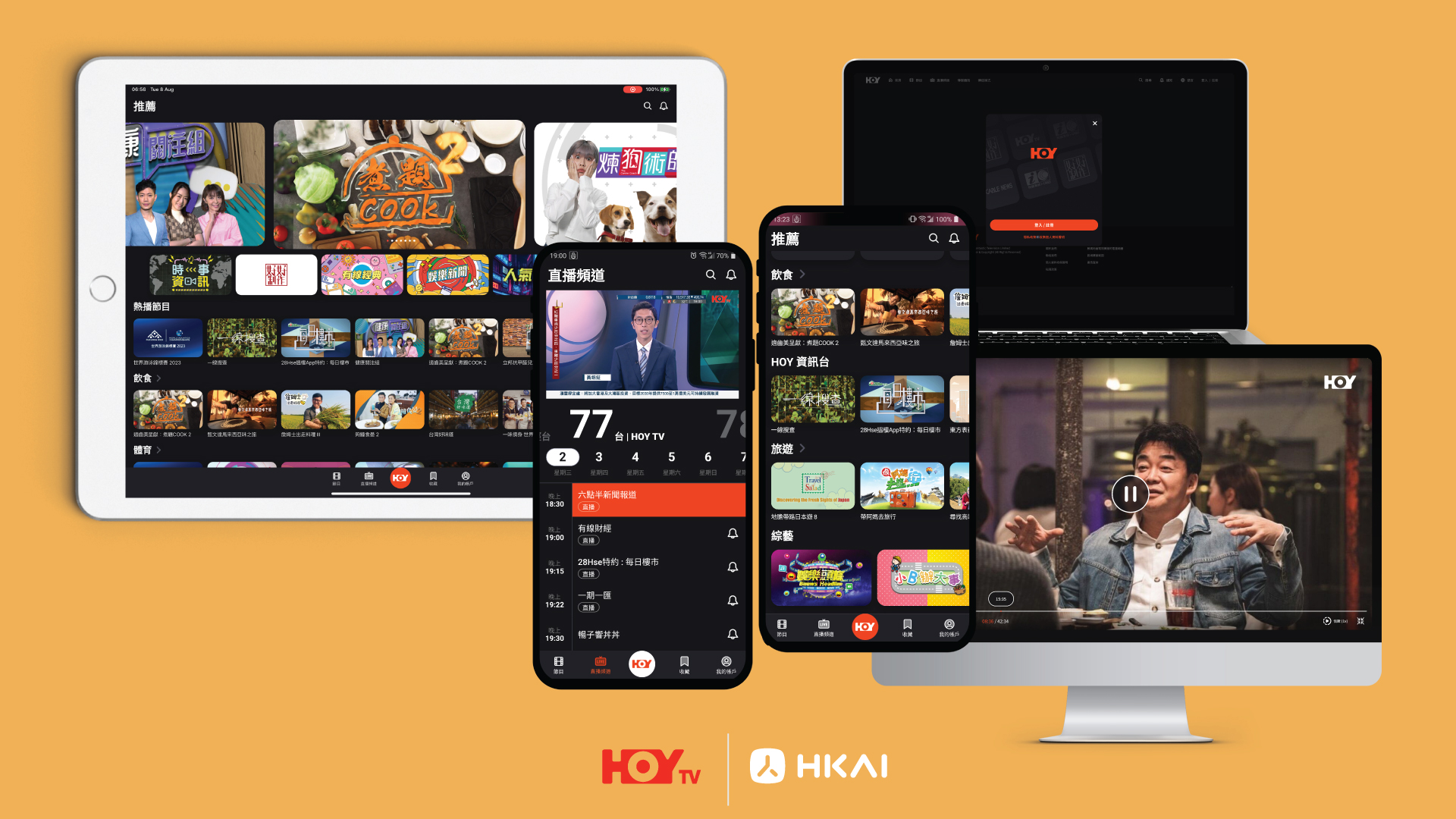 (21 Aug 2023, Hong Kong) HKAI Limited ("HKAI"), a prominent AI enabler on online advertising, is supporting the major local broadcaster HOY TV to build a brand-new over-the-top (OTT) platform. The platform includes a mobile & tablet app and webpage, offering audience a seamless viewing experience. Through AIgoAD, an advanced AI-powered supply side platform developed by HKAI, HOY TV will be able to gain free access to all ad performance data in an open ecosystem.
"The new OTT platform has consolidated our broadcasting content, offering viewers easy access to all the latest and classic programs, dramas, interviews, and documentaries produced by both HOY TV and its parent company, i-CABLE Communications. Such a variety of viewing options can all be unleashed by the all-encompassing HOY app," said Ms. Sandy Yu, General Manager, TV Operations & Content of HOY TV.
The newly developed HOY app and the webpage will enable users to quickly navigate and find the content they want to watch. "With HKAI' support for HOY TV, we are able to create a user-friendly OTT platform. I particularly like the design of the live streaming section of real time programs, the Electronic Program Guide (EPG), and the feature of reminder bell for favorite programs, all in one page," continued Ms. Sandy Yu. The app also provides personalized recommendations based on viewing history, making it easy for viewers to discover new content that they may enjoy.
Tablet view & Mobile view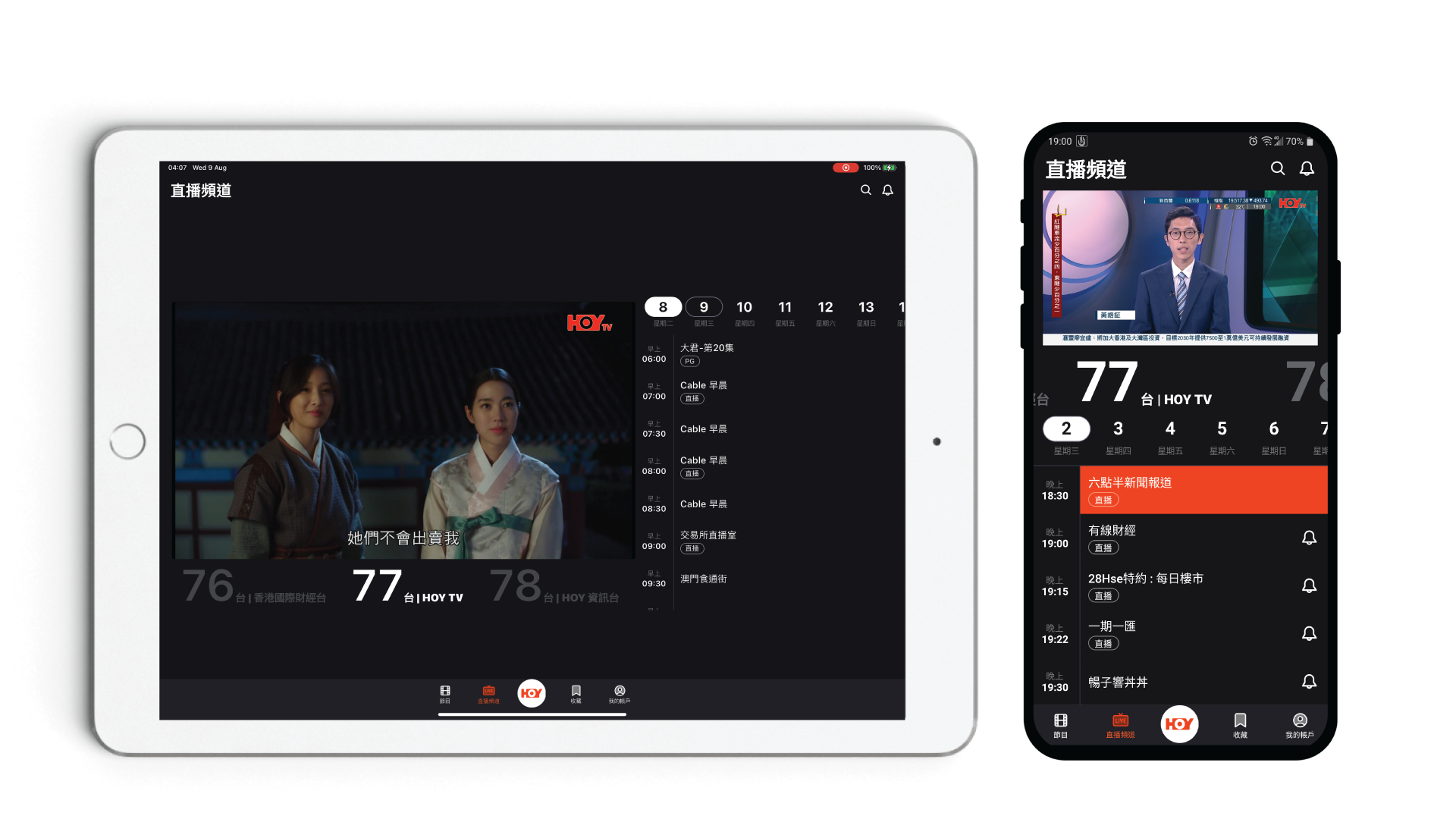 The OTT platform has also fully adopted AIgoAD, the supply-side platform (SSP) empowered by AI to serve advertisements 24/7. "We are thrilled to have another local broadcaster HOY TV joining our ecosystem to deploy AIgoAD in the time being. It is a recognition of our locally developed ad serving platform, tailored to meet local needs with customized ad formats. Our AIgoAD server also guarantees 99.99% service level agreement (SLA) for HOY TV, only allowing less than an hour of downtime each year, which slightly surpasses the SLA benchmark 99% in the market (permitting at most 3 days server downtime a year). From now on, HOY TV will be able to deliver highly targeted and personalized ad experience to its viewers stably, riding on the AI technology to optimize their yield of inventory," said Mr. Brendan Wu, Technical Co-Founder of HKAI Limited. "With the trust of the local broadcasters, we hope that HKAI can continue to contribute to the local broadcasting industry to strengthen its competitiveness in improving the standard price of Hong Kong ads and facilitate the monetization of local ads in the global ad ecosystem."
AIgoAD is the first locally developed artificial intelligence (AI) advertising supply-side platform (SSP) that enhances the local Ad ecosystem in Hong Kong. It enables publishers, such as TV broadcasters and e-commerce platforms, to monetize and maximize the yield of advertising inventory by leveraging AI to deliver targeted Ads through the over-the-top (OTT) platforms. It drives up the local ad price and empowers Hong Kong publishers to compete more effectively in the global marketplace, which ultimately leads a structural improvement of the overall ad ecosystem in Hong Kong. AIgoAD has already been implemented in two major local broadcasting companies in Hong Kong, handling over 20,000 ad requests per second to provide seamless ad serving experience every day. It has proven record in boosting up broadcasters' ad click-through rate (CTR) by 8-9%, contributing significantly to ad business monetization.
About HOY TV
HOY TV operates three TV broadcasting channels, including ch 76, ch 77, ch 78, providing news programs in Cantonese and English, variety shows, popular dramas, lifestyle information, traveling and food, financial programs and various kinds of content to the audience. HOY jumps out of the traditional TV framework, to produce programs that are both entertaining and informative, bringing valuable viewing experience to different audience clusters of distinctive preferences and interests.
Website: https://hoy.tv/
About HKAI Limited
Founded in 2020, HKAI Limited (HKAI) is a technology company specialized in leveraging artificial intelligence (AI) to enhance online advertising. We have developed two flagship AI products — AIgoAD, a supply side platform which automates and optimizes the digital Ad space; AIgoDATA, a data management platform that organizes digital data wisely and transforms them into useful insights to monetize business.
Website:       www.hkai.io
Linkedin:      @HKAI Limited
HKAI Media Contact:
Isobel Mak
(+852) 2797 2380
isobel.mak@hkai.io